10 Spooky, Beautiful Southeast Asian Ghost Stories
Haunted novels from Thailand, Malaysia, Indonesia, Singapore, and Vietnam
Of the bedtime stories my parents told me, I took the most interest in the ones involving ghosts and spirits. These stories were often used to teach me lessons on how to behave and live; however, instead of malevolent ghosts looking to terrorize people for their misdoings, I was more interested in ghosts who haunted people with the intention of connecting with them. My parents often loosely improvised "scary" stories about ancient ghosts from the Hebrew Bible and old Korean folktales, in which spirits manifested themselves in ways that weren't always malicious or evil.
These ghost stories had to do with diaspora—characters, living or not living, wandering the earth and navigating the conflicts of displacement. So these ghost-story novels and collections from Southeast Asian writers feel familiar to me: they deal with the same restless spirits and the same sense of displacement. Animism lingers in these selected Southeast Asian stories that center around "hantu," the Malay word meaning "ghost" or "spirit." Here are ten books in which ghosts manifest themselves in vampires, virtuous spirits, and more—all set in Southeast Asia and told by the prominent Southeast Asian writers of our time.
Beauty Is a Wound opens with the line: "One afternoon on a weekend in May, Dewi Ayu rose from her grave after being dead for twenty-one years…" What follows is the story of the ghost of a sex worker who comes from the dead to visit her youngest daughter, told by one of Indonesia's most celebrated writers. The writing in this epic about a tortured family, history, independence, and romance, with notes of magical realism and satire, has been compared to that of Márquez, Melville, and Gogol. Eka Kurniawan's first book (of three) released in English and translated by Annie Tucker is a special debut to be celebrated.
Eka Kurniawan's second English-language release is set in a small coastal Indonesian town, where the lives of two families and a young man, Margio, intertwine. After Margio murders his neighbor, he inherits both the spirit and body of a white female tiger from his grandfather. This translation by Labodalih Sembiring takes us on a journey in which the line between reality and fantasy are blurred and that makes us re-examine the crime genre by considering violence and betrayal in this post-Japanese occupation period novel.
Bangkok and its ghosts are the center of this debut. A cast of characters ranging from an American doctor to a pair of separated Thai sisters roam the aqueous city in multiple, interconnected vignettes from the nineteenth century to the future in Thailand.
A thriller set in Oakland and Las Vegas, Dragonfish follows police officer Robert, formerly married to Vietnamese refugee Suzy, who has mysteriously disappeared. After being blackmailed by her new husband to find her, Robert encounters her ghost, as well as the ghosts of the Fall of Saigon and present-day Las Vegas. Characters' trust are questioned in this exciting and heartbreaking hard-boiled noir.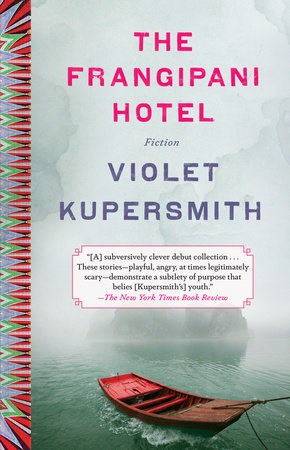 Kupersmith's collection of ghost stories set in the aftermath of the Vietnam War explores the haunted lives of those who stayed and those who left their home country. The Frangipani Hotel in Hanoi is host to a beautiful young woman who shows up in an overflowing bathtub in the opening story in this eerie and modern collection, based on traditional Vietnamese folktales told to Kupersmith by her grandmother.
Ponti by Sharlene Teo
The debut of Singaporean writer Sharlene Teo centers around four women whose bodies are haunted by puberty, family, and illness. Szu, a lonely teenager, is berated by her cold and beautiful B-list actress mother, whose best known role was as Ponti (or Pontianak, a succubus in Malay folklore) in a 1970s horror film series, and who is now a medium who works from home. Once Szu meets Circe, a privileged classmate who has intentions to learn more about Szu's mother, Amisa, things take a pivotal turn, as the past, present, and future converge in this story about isolation, horror, and relationships.
A feminist short story collection translated by Stephen J. Epstein, Apple and Knife delves into the lives of Indonesian people, both domestic and abroad. Fiction writer and scholar Intan Paramaditha transforms myths, fairy tales, and stories from the Quran and Bible by creating ominous atmospheres in seemingly normal settings in which supernatural powers interact with the personal and the political.
Malaysian writer Yangsze Choo's first book uncovers colonial British Malaya and the Chinese afterlife. When the young Li Lan is proposed with a "spirit marriage" to a deceased son by his wealthy family, her nightmares and reality converge. The Ghost Bride is Choo's fantastical take on a coming-of-age story that is currently being adapted into an original Netflix series.
An apprentice dressmaker by day/secret dancer by night joins forces with a young boy when they find a man's accidentally severed finger, which becomes the epicenter of a mystery in Choo's second novel. Also taking place in colonial British Malaya, The Night Tiger invites us into a magical, dark world where this unexpected pair has 49 days to bring the finger to its owner.
Published two years after The Sympathizer, Viet Thanh Nguyen's first collection of shorts opens with the story, "Black-Eyed Women" (originally published in Recommended Reading!), in which a ghostwriter is confronted with loss and literal ghosts after taking up a memoir-writing job. Using elements of comedy and tragedy, Nguyen's stories are scintillating examinations and tales of the displaced in Vietnam and in the U.S.