7 Books About Expanding Your Sexual Horizons
Spice up your fantasy life without having to interact with another person with these stories of sex and exploration
The theme of education—spiritual journeys, individual enlightenment—pervades much of the literary canon across cultures. Reading the narrative of a protagonist's heuristic odyssey can open the eyes of the reader as it relates to their own life. Bildungsroman novels allow us to look at our own morals and dispositions, and consider the places in which we can grow. As the hero grows and learns, we grow and learn with them. This is true of novels about sexual exploration. A history of censorship has turned sex into a subject matter only disclosed behind closed doors (or during a 45 minute class in middle school), making it difficult to be comfortable with our bodies and the pleasures for which it lusts. But this prohibition only makes the conversation more relevant.
Written with sincerity and vulnerability, these seven books share the stories, both fictional and non-fictional, of sexual exploration. The characters give us insight into our own journeys; as they learn about their own sexual appetite and biological urges, we make discoveries of our own.
Open Me by Lisa Locascio
In Open Me, high school graduate Roxana, consumed with wanderlust and an awakening sexuality, goes on a study abroad trip to Denmark. Her adventure begins when she meets a beguiling Danish PhD student who woos her and whisks her away to stay with him in a remote town, where he tells her that he has only one key and she cannot leave the apartment while he is out working. Finding herself locked away in a stranger's apartment in a foreign town, Roxana defies the "princess locked in a tower" trope. Rather than wasting away her time, dreaming of her prince or brushing her long golden locks, she takes the opportunity to explore the intricacies of her body, reflecting on her previous and current sexual experiences, to learn about her desires. Locascio writes about sex (and masturbation) with a vivid realism that no male writer could ever achieve.
For this hydro-erotic story, Melissa Broder pulls from her own insecurities and idiosyncrasies relating to sex. According to The New Yorker, Broder "could only orgasm when she imagined people vomiting" during her developing years. With the same vulnerability she uses to tell the public about her own sexual pleasures, she develops a protagonist willing to succumb to a lust for marine carnality. An addict to the feeling of being desired and adored, Lucy recognizes the same need in her partner, whose quasi-merman body has made him believe he will never receive love.
Sexual exploration and education goes far beyond adolescence and even young adulthood, it can exist even within the boundaries of a permanent relationship, even within the time honored tradition of marriage. With the changing of bodies and situations, with lives in constant flux, growth can be incessant. When the married couple in Sarah Dunn's novel recognize this, they make a sincere effort to progress rather than stay in place. The Arrangement tells the story of an open marriage between Owen and Lucy, in their attempt to reclaim their marriage while simultaneously sanctioning one another's implicit sexual desires. The Arrangement plays with the periphery of what has been long considered, in many parts of the world, the conventional way to live a life alongside one monogamous partner.

Using lyrical prose that bewitches from the first page and poignant references from philosophers, pediatricians, and writers, Nelson writes about her life with a nonbinary partner. Nelson's style, which vacillates between poetry, theory, and memoir, offers the reader a sincere look into what it means for her to love, and lust after, someone who does not fall within the confines of the binary social construction of gender.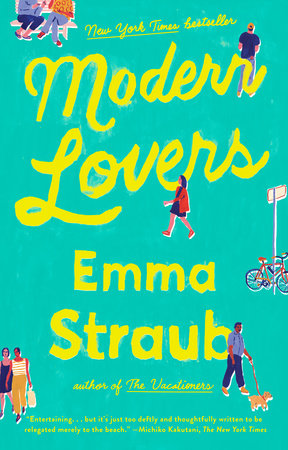 Educating yourself on sex and lust is one thing, educating your children is entirely another thing. In Emma Straub's novel, set in modern day Brooklyn, two families simultaneously explore what it means to be in a relationship, whether it's a lifelong connection or a newly flourishing one. While Jane, Zoe, Elizabeth and Andrew struggle with their own relationships after the death of a mutual college friend and bandmate, their respective children begin a fling. The juxtaposition of experienced and inexperienced, old and new, offers an interesting perspective on the development of sex and love—of growth from the one into the other.
Orlando by Virginia Woolf
One of the first English novels about someone changing gender begins with, "He—for there could be no doubt of his sex…" Long before the public acknowledgement of gender fluidity, Woolf weaves the tale of a woman born in a man's body—or a man who becomes a woman. Orlando lives hundreds of years, is exposed to centuries of chauvinism, and encounters the mistreatment of the female's body from the perspective of a person who has lived on the other side of the coin. Orlando illuminates the brutal history of gender politics while recounting the experience of a person who lusts after both men and women.

Lusting after a person can inspire a passion for creation. Edna, a married woman, learns this when her appetite for sex is aroused by a neighbor at the boarding houses on Grand Isle where she is staying for the summer. When autumn sets in and Robert—her muse—is gone, Edna continues her fervency. Now, the object of her fervor is no longer a man, but art. Her romance with Robert catalyzes a desire to create beauty. Edna rides on the high of that inspiration, forgoing the social norms of women of the time to zealously chase after the feeling of bringing something beautiful into existence. A feeling not unlike creating a bond between another person where before there was only unfamiliarity.
Sexual exploration can be as painful as it can be pleasurable. Simone de Beauvoir, a cited expert on the condition of human suffering and the subjugation of women, wrote this novel loosely based on her relationship with Jean Paul Sartre. She Came to Stay follows the story of Françoise and Pierre as they invite a third person into their lives. Through these three characters, de Beauvoir examines the inherent paradox of love and desire; how can we feel the freedom of individuality that love promises us when we depend on the other to give it to us? As per the deep-rooted existentialism that pervades all of her texts, She Came to Stay is an investigation into meaning through the magnificence and monstrousness of sex and love.