10 Exuberantly Queer Graphic Novels
Memoirs and fiction that celebrate the lives of queer women in words and pictures
The space of the graphic novel allows a "coming out" process that is uncompromising and by definition "alternative" (like a great underground 'zine). This glorious, sometimes eerie space is where characters curse, fuck, gesticulate, poop, live. Right in your face, showing you fear, desire, often humor. This diverse list of 10 queer graphic novels features characters who challenge sex roles, gender identities, class hierarchies, capitalism and other systems, corruption and exploitation of various kinds.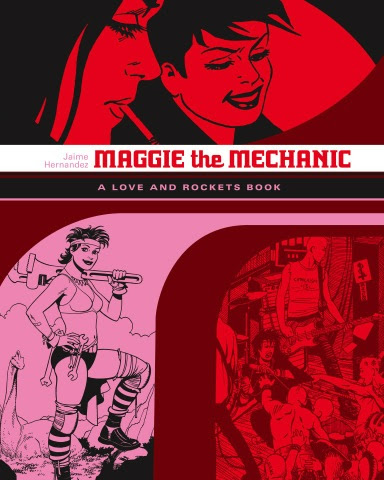 Book 1 of the Locas series (part of the indelible comics classic Love & Rockets) was the first time I ever saw brown women, Latinx women of L.A., at the center of a "comic book" (my term for it then!). Maggie (Margarita) and Hopey are friends, rivals, lovers, confidantes, political sisters. They observe the world and each other with major "side eye." In this start to a still-ongoing series by the graphic novel pioneers Jaime and Gilbert Hernandez, Maggie's adventures around a crashed spaceship in the jungle intersperse with romantic and lustful letters back home.
Lisa Maas' debut graphic novel was recently named a Stonewall Honor Book for the Barbara Gittings Literature Award by the American Library Association. The book delves into the specificity of "white lesbian cultures," specifically in Victoria, Canada (Pacific Northwest), weaving the details of this world (mullets! Indigo Girls! Cats!) with a traditional "rom-com" scenario of a two people who "gave up on love" finding each other with an awkward, authentic excitement.
The winner of the 2018 LA Times Book Prize for best graphic novel, this book makes an inevitable appearance on every "queer comics" list for the sheer haunting beauty of its images. Walden, a manga-influenced comic artist who was also a former figure skater (and who has written a graphic memoir, Spinning, about this experience) makes use of a lyrical, understated style to tell a story about rebuilding the world on a new planet. Mia, a crewmember, once fell in love with a girl named Grace, and wants to help the rebuilding crew in part to recover this lost love.
This sweet, sexy graphic novel, by queer black woman artist and disability rights activist Tee Franklin, deserves to be turned into a star-ensemble movie. A decades-long love story between two women who meet as young adolescents at a bingo parlor, fall apart when their families demand "straightness" from them, then come back together in a relationship that lasts, Bingo Love is one of the few graphic novels that offers bold queerness without "youth" as a prerequisite.
Ignatz-winning illustrator Tamaki's episodic story set in a school for superteens can be read as a cross-over YA graphic novel, sort of like an edgier, multicultural, existentially-themed Twilight, or maybe more like the sensibility of Sabrina, the Teenage Witch (2019 extremely gripping, risqué, scary version, not the benign sitcom schtick of Melissa Joan Hart, whose character would've been killed off in the forest in the first episode of the all-new Sabrina). At SuperMutant Academy, problems involving witches and monsters are juxtaposed with anguishing but universal problems—like unrequited love.
Kari by Amruta Patil
When I first encountered Kari, by Indian graphic novelist Amruta Patil, I thought it might be too grim for me—the stark black and white images were so unsettling, and echoing some of the most disturbing images in religious comic books I had grown up with. But in the end, the book leaves you breathless, and extremely glad to be alive. Kari explores the aftermath of an attempted double suicide by two women lovers, herself and her lover Ruth, and the titular character's subsequent survival (and rebirth) in the shadow community of the gutters of Mumbai and against the challenges of the 2008 recession as it affected the city, including during terror attacks in fall of that year.  
Wet Moon, by Sophia Campbell
Wet Moon portrays a compelling goth scene, in some ways following the tradition of the Hernandez brothers' Love & Rockets (which introduced the idea of the punk rock scene as multiracial and as available to Latinx women as it was to white women). Body positivity of very diverse shapes is celebrated in the book. The story starts in the town of Wet Moon, focusing on Cleo Lovedrop and friends Trilby Bernarde, Audrey Richter, and Mara Zuzanny, all art students. There is courage in the portrayal here of sexual violence and its survivorship.
Co authored by two American Library Association Stonewall Honorees, Luisa: Now and Then is a particularly delightful and precisely-drawn graphic novel about a 32 year old artist/ photographer being brought in dialogue with her teenage self on the streets of 1990s Paris. What more could you need?
Starting with the elaborate, gilded cover art: the work is gorgeous and intricate, fashioning a kick-ass marginalized rebel heroine, Maika Halfwolf, who could eat Katniss Everdeen for breakfast (literally). Nudity, fury, revenge—what women are finally able to be like, when free of the confines of "the likeable woman" expectation guiding much of commercial literature.
Winner of an 2018 LGBTQ Lambda Literary Award in the Graphic Novel award, this story centers on a 10-year-old queer girl, Karen Reyes, as she investigates the death of her Holocaust-survivor neighbor against a backdrop of the monsters she imagines herself as being, like the drawing she makes of herself as a werewolf chasing a village of women. This book, because of its juxtaposition of a "comic" story arc with reproductions of works from the Art Institute of Chicago and elsewhere in the city, is considered to have elevated the graphic novel genre, but come at a great physical cost to the artist, who labored over the book for years while recovering from hand and arm paralysis from West Nile virus. Ferris is also an inspiration in that she began this debut work only after the age of 40.