The Funniest Writing You Haven't Read
No jokes, no tricks, just seven novels and stories that will make you laugh
I have a bit of a defect as a reader. I tend to judge all works solely on whether or not they're funny. My favorite moment in Moby Dick comes fairly early on when Ishmael starts making fun of famed microbiologist Antonie van Leeuwenhoek:

Leuwenhoeck submits to the inspection of a shivering world ninety-six fac-similes of magnified Arctic snow crystals. I mean no disparagement to the excellent voyager (I honor him for a veteran), but in so important a matter it was certainly an oversight not to have procured for every crystal a sworn affidavit taken before a Greenland Justice of the Peace.

Ha! Take that, father of microbiology, you dumb clown! Later on in the book we get this line about a mysterious sailor, "He announced himself as the archangel Gabriel, and commanded the captain to jump overboard." I'm not even sure if that line is supposed to be funny, but it always gets a chuckle out of me. There are lots of other funny bits, but for me those two lines alone secure the novel's status as a masterpiece. Other classics haven't fared as well under my unwavering demand for jokes. A Farewell to Arms is pretty solidly a bummer except for the moment when Frederic tells his doctors to saw his leg off so he can wear a hook on it. And don't even get me started on Cormac McCarthy's The Road. I doubt I laughed once.
I think I speak for all discerning readers when I say that it can be frustrating when otherwise great books fall down on the giggle front. In fact, when I express this thought to other readers, I hear a lot of them bring up similar concerns. They say things like, "That book wasn't trying to be funny" or "What's the matter with you?" or "Please, stop shouting." For all these reasons and more, I've decided to gather together a list of some of my favorite funny writing. These are all works that make me laugh without sacrificing quality or their status as high art. I've also tried to focus on pieces you may have missed, since I'm guessing we've all already read that Mark Twain story with the frog. I think it's called something like "The Leaping Toad of Catsmooch County." I'm not going to Google it and you shouldn't either. But with any luck, there will be some fun surprises below.
"Ron" by Joy Baglio
Writers and readers everywhere recently mourned the planned shuttering of the beloved literary journal Tin House. This brilliant and absurd piece by Joy Baglio is a perfect example of why this loss has been so keenly felt. Baglio's "Ron" appeared in issue 75 of Tin House. In this story, the universe keeps sending a young woman lovers who are all named Ron. What at first seems like a coincidence quickly develops into a half-cosmic, half-magical conspiracy. Baglio leans into the hilarious premise in an earnest, thoughtful way that both accentuates the humor of this story and gives it depth.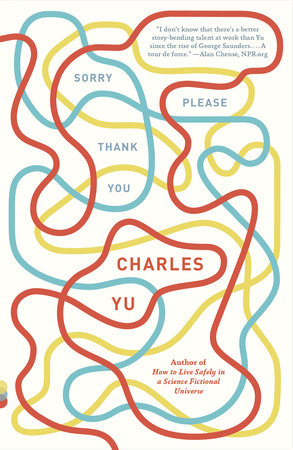 Few writers mix heart, spiraling creativity, and hyper intelligence as well as Charles Yu. So it almost seems unfair that he's also funny. This short story from his collection Sorry Please Thank You is among my favorites. Yu gives us a correspondence between an individual and different versions of himself across parallel worlds. It starts as a casual interaction and soon kicks off into an echo chamber that questions the underpinnings of identity and existence. Yu tackles all of these issues while maintaining the familiar and funny tone of an email thread getting out of hand.
You might already be familiar with Jack Handey from his classic contributions to Saturday Night Live or his Deep Thoughts anthologies. You might be less familiar with his collection of stories and essays titled, What I'd Say to the Martians, which features some of the greatest and most ridiculous humor writing of all time. In the story "Einstein and Capone," Handey chronicles a friendship between Albert Einstein and Al Capone with charming anecdotes like this one:

Their favorite joke was to have someone ask them which one was Capone and which one was Einstein, and they would both point at each other. They were a couple of slaphappy kids, going around slapping people. If you got slapped by Capone, there wasn't much you could do about it. And if Einstein slapped you, you'd go, 'Wow, slapped by Einstein.'

If you find that excerpt funny, then I agree with you. If you don't find it funny, I'd probably grab this one from the library before buying your own copy.
This flash memoir is the opening piece of Beard's celebrated collection, The Boys of My Youth. In this piece, Beard manages to capture all the awkwardness of preadolescence in under two pages. She describes being ten-years-old on a vacation with her family when she sees a group of teenagers start to drown in a river. In the moments before the teenagers are saved, Beard explains that she is frozen with embarrassment over the fact that teenagers are shouting at her. She details the event with her characteristically amazing prose and a self-effacing wit that elevates the memory of her own awkwardness until it's universal.
"Jeeves and the Song of Songs" in Very Good, Jeeves! by P.G. Wodehouse
P.G. Wodehouse was probably one of the greatest English prose stylists of the 20th century. He's rarely credited as such because his prose was also funny and most of the people who publicly rate prose stylists are physically incapable of laughter. The complicated farces of Wodehouse's stories are also half the fun, so I won't spoil the plot of this classic Jeeves and Wooster tale. However, I will share this quick excerpt in which Bertie Wooster observes his friend being heckled at a music hall:

I don't know why, but somehow I had got it into my head that the first thing thrown at Tuppy would be a potato. One gets these fancies. It was, however, as a matter of fact, a banana, and I saw in an instant that the choice had been made by wiser heads than mine. . . . The moment I saw that banana splash on Tuppy's shirtfront I realized how infinitely more effective and artistic it was than any potato could have been.
Not that the potato school of thought had not also its supporters. As the proceedings warmed up, I noticed several intelligent-looking fellows who threw nothing else.
Lydia Millet is a genius and all of her books are worth picking up if you're interested in the heights and possibilities of contemporary fiction. But out of all her books, Mermaids In Paradise, in which a couple on their honeymoon discover a lost race of mermaids, feels like the perfect delivery system for Millet's amazing sense of humor and grand sense of adventure. The narrator, Deb, possesses a warmth and relatability that causes her incisive observations about our world to read like so much more than just satire. Mermaids in Paradise is an urgent communion with a voice that immediately feels like that of an old friend.
Do you wish Rimbaud had been funnier and had hung out at Wendy's more often? Same here, friend. Same here. Enter Joe Wenderoth, whose novel chronicles the thoughts and obsessions of a nameless narrator memorializing his thoughts on Wendy's comment cards over the course of a year. The narrator lives in a world of Sudafed, whiskey, Biggies, and Frosties. The resulting comment card prose poems are brilliant, hilarious, and occasionally (just a warning) shockingly pornographic.